Sectional Steel Poles (Old 2453, MTO 2453, Heavy 2422)
Dependability of the Manufacturer
SIMPLICITY OF DESIGN
Polefab Sectional Steel Poles are manufactured from special high tensile, low alloy and corrosion-resistant sheet steel, formed in the shape of round, tapered tubes in standard lengths.
Sound engineering design of tapered conical sections and controlled overlap of sections contribute to the overall efficiency of these poles. Standard on most poles are extra-large hand holes to allow workers to get their hands inside the poles easily, even with gloves on.
SIMPLICITY OF ASSEMBLY
Poles of a wide variety of lengths are quickly assembled in three easy steps:
Poles are laid out in the order of assembly, end to end (sections are numbered).
The small end of the base section is inserted into the large end of the next section by hand.
The sections are driven together one by one by either using a powered source or tamping them by hand (with a wooden block to protect the sections) to the marked overlaps. Using no bolts and no clamps, the sections are locked together by the conical taper. The Polefab Sectional Steel Poles are now ready to have attachments and wiring assembled prior to erection.
DURABILITY BY DESIGN
To protect from rusting and corrosion, both inside and out, all poles are hot-dip galvanized to meet or exceed CAN/CSA-G164 & ASTM A123 specifications. Ongoing monitoring of long-term, in-service poles located in very demanding roadside locations, exposed to high levels of corrosives, indicates a service life well in excess of 50 years.
EFFICIENCY IN WEIGHT
Polefab Sectional Steel Poles are amazingly light and easily handled, thereby reducing costs. The most important feature of these poles is its weight advantage over other types of poles. Polefab Sectional Steel Poles of comparable length weigh only:
1/2 as much as a conventional pole
1/3 as much as a wood pole
1/6 as much as a concrete pole
A 25-foot pole can weight as little as 225 lbs.
EFFICIENCY IN STORAGE
Storage problems are practically eliminated with Polefab Sectional Steel Poles:
Sections are conical and can be nested, one inside the other.
Standardized section lengths of 6′-6″ saves storage space of up to 75% over other types of poles.
Storage is simplified as eleven standard conical sections are manufactured and these eleven sections provide a range of 66 different pole lengths.
EFFICIENCY IN TRANSPORTATION
With the ability to nest the lightweight sections together, transportation of Polefab Sectional Steel Poles is greatly simplified. Poles can be carried by almost any type of trucks (including pick-up trucks and small vans) instead of having to employ costly pole-hauling equipment.
Sectional design allows for ease of transport to remote or otherwise tough to access sites, be it via truck, sled or air freight.
DEPENDABILITY OF THE MANUFACTURER
Polefab Inc. is 100% Canadian owned and operates with 100% Canadian content. The company is a long time supplier of sectional steel poles to the Ministry of Transportation of Ontario. CWB certified procedures and certified welders create poles to MTO specifications and provincial standards and listed as a designated source material for the MTO as specified below:
Listed as a supplier in the Designated Source Material (DSM) for the Ministry of Transportation (MTO) under DSM 6.60.75
Manufactured in Accordance with the Ontario Provincial Standard Specification (OPSS) for Material Specifications:
– Sectional Steel Class Poles listed under MTO Spec. OPSS 2453.
– Heavy Class Sectional Steel poles listed under MTO Spec. OPSS 2422
Relevant Ontario Provincial Standards Drawings (OPSD)
– OPSD 2232.010
– OPSD 2200.040
DEPENDABILITY OF THE POLE
Light weight means greater safety. Polefab Sectional Steel Poles, when subjected to severe stress or damage, will not break: but rather buckle in one section. Repairs can usually be carried out by the removal of the damaged section and replacement with a new one.
SAFETY BY DESIGN
Combining the light weight, thin steel and large diameter design with the built-in
frangible safety base, Polefab Sectional Steel Poles stand out in terms of safety. Specifically:
Polefab Sectional Steel Poles have a greater ability to absorb and distribute the energy of an accident on impact due to their larger diameter and thinner high tensile steel, resulting in less damage to the vehicle.
The frangible safety base is reinforced by a welded ring that, when impacted hard enough, causes the pole to shear off near the base plate, significantly reducing damage to the vehicle and its surroundings.
2453 OLD MTO SPEC
TAPERED ROUND STEEL SECTIONAL STEEL POLES(pre 3/15/12)
FEATURES
TAPERED STEEL ROUND SHAFT
ELLIPTICAL ARM MOUNTING STANDARD ON POLES 8.7M+
7″x12″ REINFORCED HAND HOLE FRAME STANDARD
TOP CAP STANDARD
GALVANIZED FINISH
PRE SET ANCHORS AVAILABLE
ORDERING INFORMATION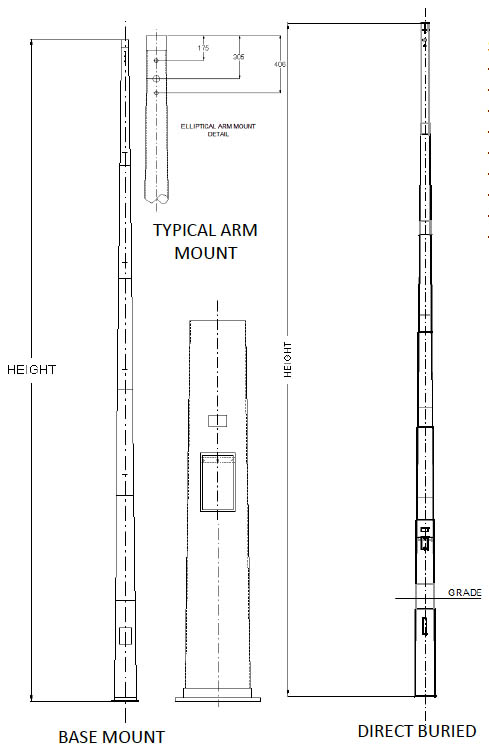 SECTIONAL STEEL POLES FEATURE:
Ease of assembly
Light weight
Cost effective shipping
Traffic arm mounting
Long standing MTO specified item
DSM listed
Galvanized finish
May be coated
Base Mounted & Direct Buried
AVAILABLE FINISHES
DB BRONZE
BL BLACK
WH WHITE
GR GREY
PS PLATINUM SILVER
GN GREEN
CU CUSTOM
GA GALVANIZED
GLXY GALAXY – GALVANIZED &  POWDERCOATED
OPTIONS:
POLECOAT STANDARD COATING ANY COLOUR
ALUMINUM TRAFFIC ARMS AND PODS
PRE SET ANCHOR BOLTS
STEEL FABRICATED BASE COVERS
CUSTOM HEIGHTS AVAILABLE
CAMERA MOUNTS AVAILABLE
ALTERNATE FIXTURE MOUNTS AVAILABLE
Download 2453 PDF Spec Document Here
2422 HEAVY DUTY MTO
TAPERED ROUND STEEL SECTIONAL STEEL POLES HEAVY DUTY
FEATURES
TAPERED STEEL ROUND SHAFT
ELLIPTICAL ARM MOUNTING
REINFORCED HAND HOLE FRAME STANDARD
TOP CAP STANDARD
GALVANIZED FINISH
MTO DSM APPROVED PRODUCT
THE ROAD AUTHORITY LISTED
ORDERING INFORMATION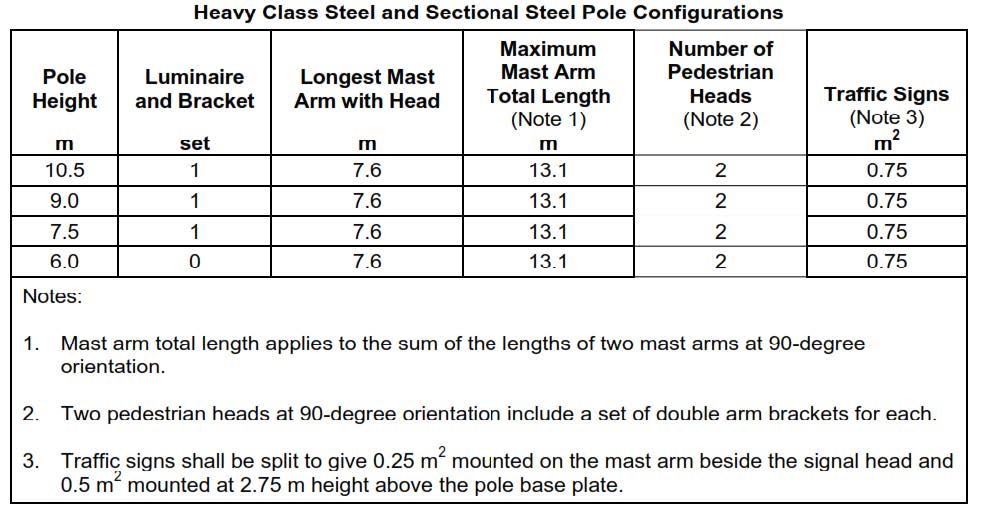 SECTIONAL STEEL POLES FEATURE:
Ease of assembly
Light weight
Cost effective shipping
Traffic arm mounting
Long standing MTO specified item
DSM listed
Galvanized finish
May be coated
Base Mounted & Direct Buried
Meets CSA S6-06 design criteria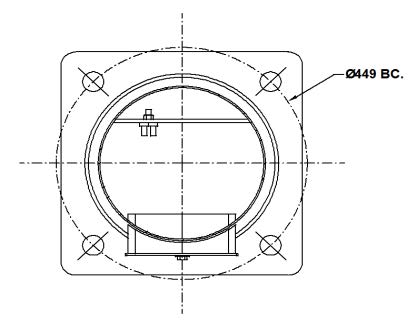 AVAILABLE FINISHES
DB BRONZE
BL BLACK
WH WHITE
GR GREY
PS PLATINUM SILVER
GN GREEN
CU CUSTOM
GA GALVANIZED
GLXY GALAXY – GALVANIZED &
POWDERCOATED
OPTIONS
POLECOAT STANDARD COATING ANY COLOUR
ALUMINUM TRAFFIC ARMS AND PODS
PRE SET ANCHOR BOLTS
STEEL | DEPENDING ON FINISH SELECTED
CUSTOM HEIGHTS AVAILABLE
CAMERA MOUNTS AVAILABLE
ALTERNATE FIXTURE MOUNTS AVAILABLE
Download 2422 PDF Spec Document Here